The Eco Power Caucus is EnviroVoters' leading donor circle. Become an insider by joining today and gain access to special donor courtesies within EnviroVoters.
The impacts of climate change are happening right now across California: droughts, wildfires, extreme heat, air and water pollution. According to the latest scientific research, we only have until 2030 to determine how to stop the most catastrophic impacts of the climate crisis.
Members of the EnviroVoters Eco Power Caucus include individual and organizational benefactors who prioritize the environment. By becoming a member of the Eco Power Caucus, you join a community of donors who are demanding Bold Climate Action and making their voices heard on the environment.
The Eco Power Caucus is EnviroVoters' 501(c)(4) leading annual fund program and provides unrestricted operating support. Funds raised through the Eco Power Caucus provide essential resources for EnviroVoters' year-round initiatives that build power across all regions of the state, educate the public on the most pressing environmental issues, elect environmental champions, expand voting rights, shape the public narrative around climate, and ultimately protect our future for generations to come.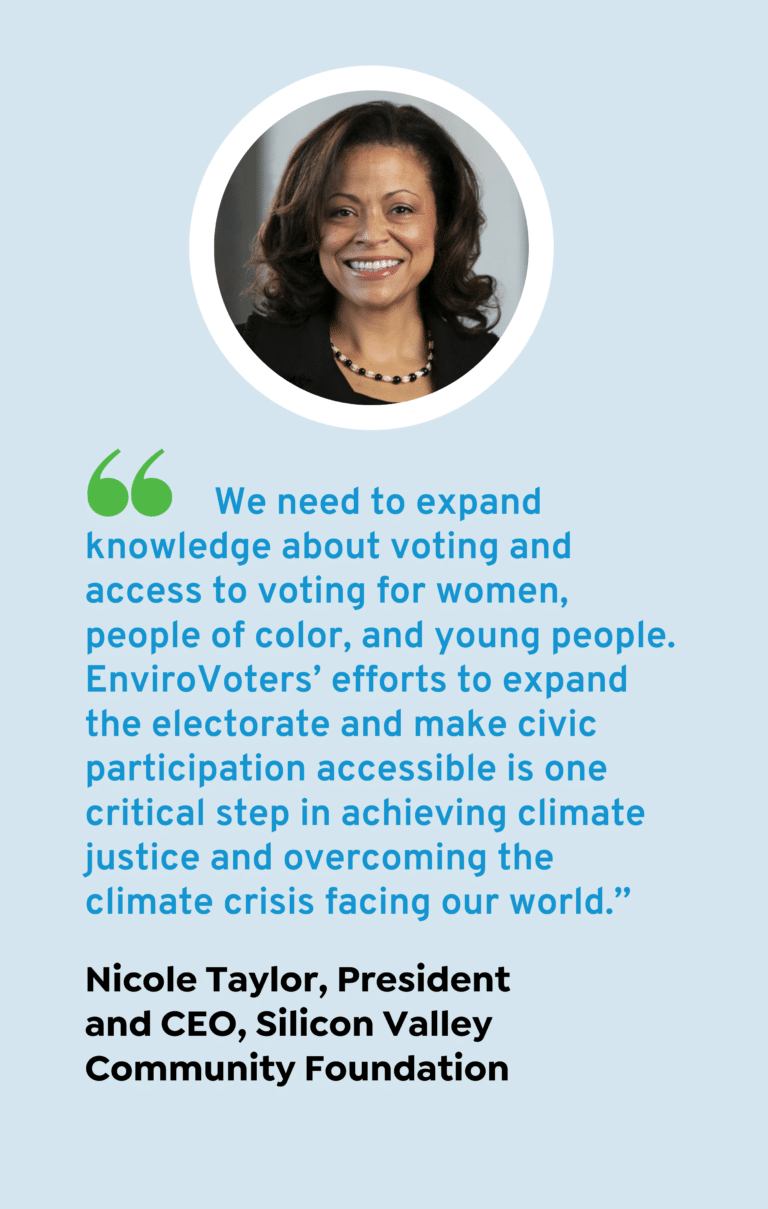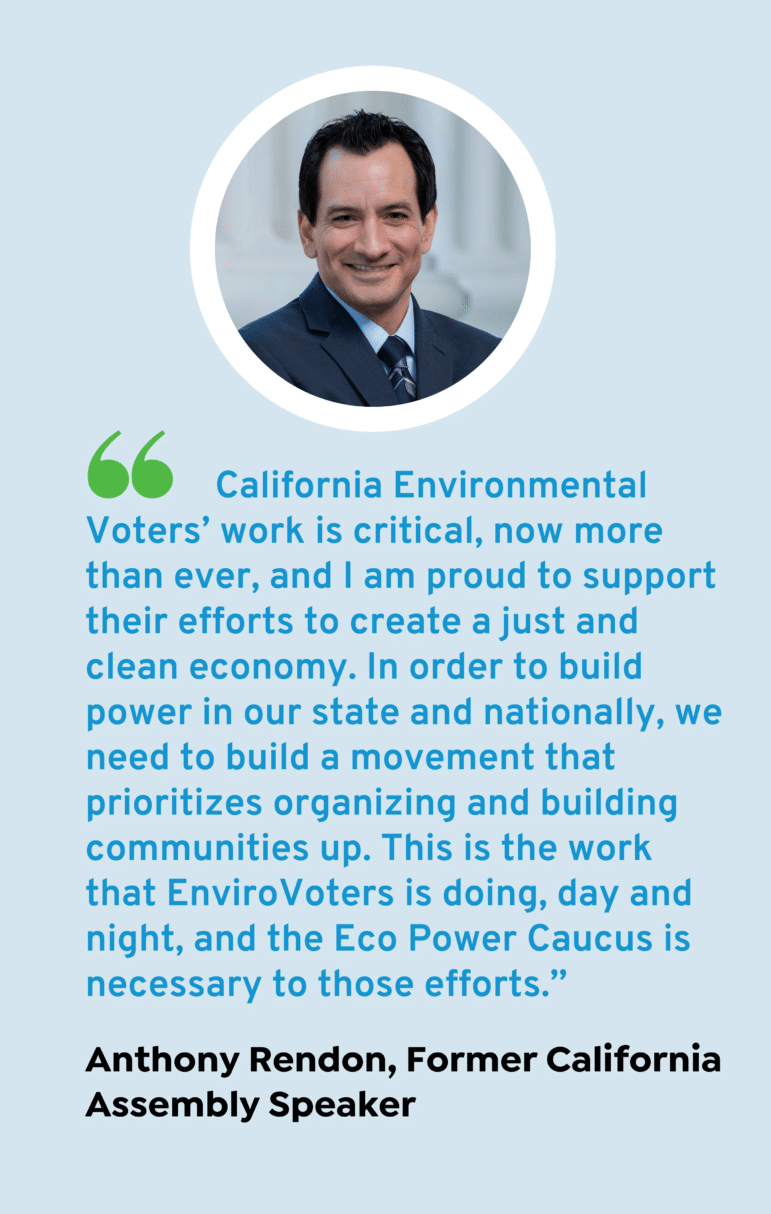 Climate action is an urgent imperative and it is our best opportunity to address injustice at scale, touching every part of California's economy and infrastructure. At EnviroVoters, we believe that radical change is necessary and that only by transforming our political system and electing environmental champions will we create the opportunity to take the bold action needed on climate change.
EnviroVoters, a 501(c)(4) organization, is in a unique position, in that it is the non-partisan, non-profit organization that serves as the political arm of California's environmental movement. We are the state's voice — statewide and nationally — and our goals are to:
Cultivate and elect environmental champions
Turn electoral victories into policy wins
Hold lawmakers accountable, and
Build political power among all communities, including underserved communities, to achieve climate justice.
EnviroVoters inspires hope and action and fights for equity — from voting rights to clean air and water — for all Californians.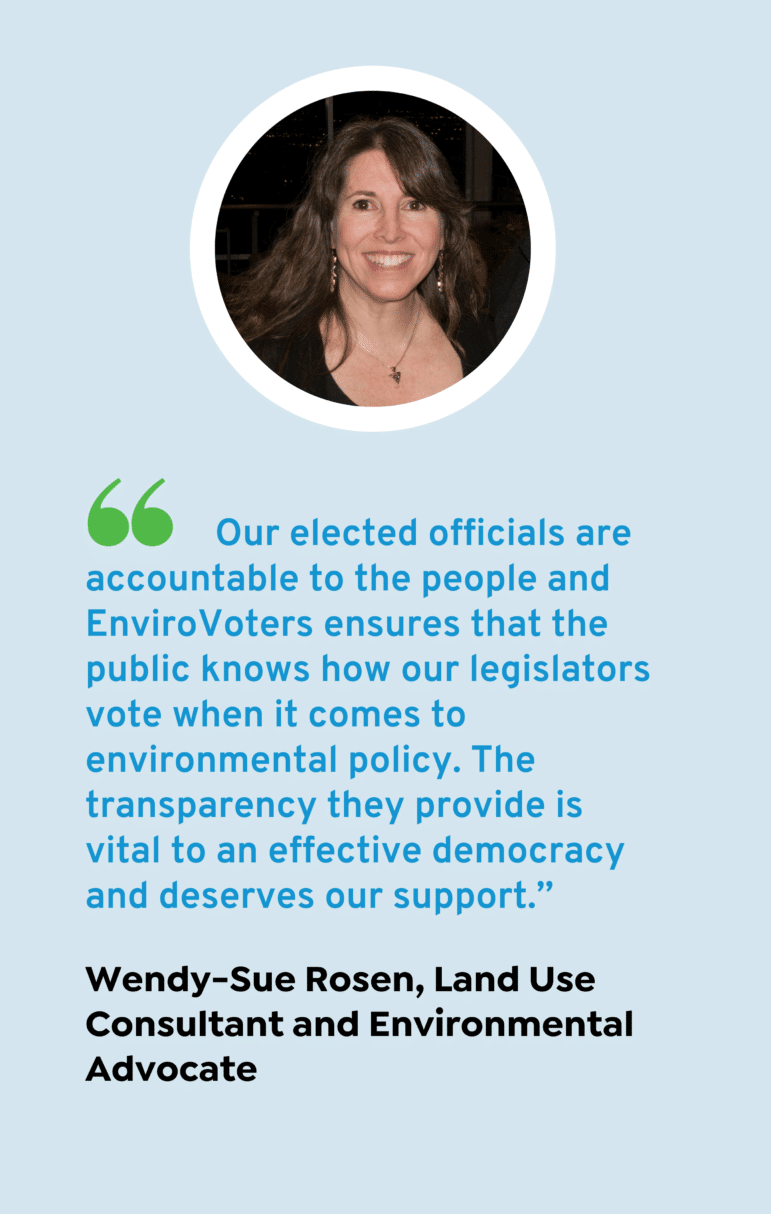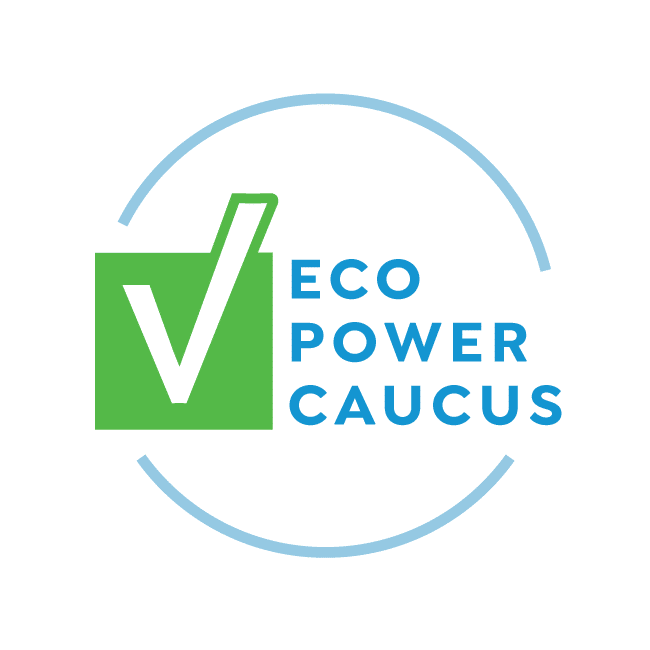 $42/MONTHLY
You are helping to solve the climate crisis
Digital subscription to EnviroVoters' Annual Environmental Scorecard
An EnviroVoters reusable bag
$1,000 Turning Point Level
$84/MONTHLY
(For example, funds delivery of 5,000 text messages to voters for political and environmental outreach)
Invitations to live and virtual events with elected officials, as scheduled
Access to the EnviroVoters Priority Legislation Tracker
$208/MONTHLY
(For example, funds 100 patch through calls from constituents to elected officials requesting action)
Invitations to semi-annual Leadership Briefings
Listing at EnviroVoters' annual fundraiser
An EnviroVoters water bottle
$5,000 History Maker Level
$416/MONTHLY
(For example, funds 40 hours of advocacy work in Sacramento)
Two tickets to EnviroVoters' annual fundraiser
Certificate of recognition
$10,000 Game Changer Level
$833/MONTHLY
(For example, funds one regional election supporting an environmental champion)
Opportunity to use EnviroVoters logo, upon approval
Donor recognition on EnviroVoters social media